---
Nimkii Aazhibikong has formed a mutually supportive relationship with Niwiijiiwok Doodemag and the Seven Generations Forward Fund to be able to provide a place for gifts from the heart to be received for our language camp.
As we at Nimkii Aazhibikong are a grassroots Indigenous group of people who rely entirely on the support of people to operate the language camp, we are very pleased to have formed these relationships with other grassroots groups who are making great differences in their communities as well. Please also consider supporting them.
To make a gift from the heart and to receive a charitable tax receipt, please follow the following instructions:
1. Click on the link to the Canada Helps website found below. The link will take you directly to the Guelph Community Foundation Page.
2. IMPORTANT: Once you are in the website, MAKE SURE TO SELECT "Nimkii Aazhibikong" from the list before proceeding with the gift to ensure the funds are directed to us. (as shown in the below image).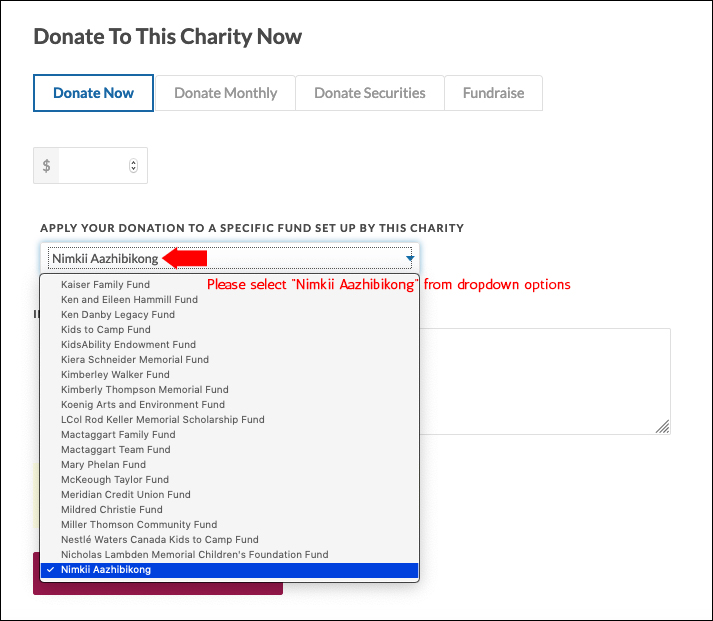 3. You will be contacted directly by The Guelph Community Foundation who will issue your tax receipt.
TO MAKE A CHARITABLE DONATION
click here
to be taken to the Canada Helps page for "The Guelph Community Foundation" and remember to SELECT NIMKII AAZHIBIKONG.
THE GUELPH COMMUNITY FOUNDATION ISSUES OFFICIAL RECEIPTS FOR INCOME TAX PURPOSES.
CHARITABLE REGISTRATION #867278350 RR0001
---